DeWitt Police - RESERVE UNIT
These dedicated volunteers make it possible for use to deliver the most efficient and effective service possible to our community.
DeWitt Police Reserve Officers are trained police officers that volunteer their time similiar to a volunteer firefighter. They have most of the same police powers as any full time paid police officer and undergo much of the same training topics.
If interested in becoming a reserve, please Contact Officer Troy Harksen.
659-3145 or email tharksen@gapa911.us.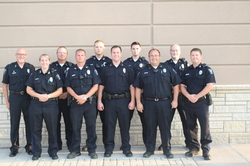 DeWitt Reserve Officers L-R: Jeff Wartgow (retired), Megan Govier, Lt. Jamie Stearns (resigned), Ryan Edwards, Devin Wagner, Todd Malone, Loren Knudson, Dan Edwards, Cpt. Lee Penningroth, Wade Glahn