DeWitt Citizen's Police Academy
CPA Class #14 starts February 6th!
Understanding through Education
The DeWitt Police Department's Citizen's Police Academy program is designed to promote Understanding Through Education by building a relationship between the police department and the public we serve. Citizen Police Academies have been around in the United States for over 20 years as a vital component of Community Oriented Policing.
This is an exciting 8-11 week experience in which we expose community members to the many facets of the law enforcement profession. You not only experience classroom presentations, but also many of the topics will involve hands-on learning. Additionally, we ask that participants ride one shift with a DeWitt Police Officer during the academy to get the "real" feel of life on patrol.
Our goal is for the participants to walk away with a better understanding of their local police department where they will be additional eyes and ears out there that know what to look for and what we need when a crime or suspicious circumstance occurs. We hope to gain a better understanding from YOU on what YOU the community want and expect out of YOUR police department, so that we can better serve all DeWitt residents.
We strive to build partnerships with YOU, our Community so that TOGETHER we can continuously improve the quality of life in DeWitt.
BE A PART - JOIN THE CITIZEN'S POLICE ACADEMY
CITIZEN'S POLICE ACADEMY CLASS # 13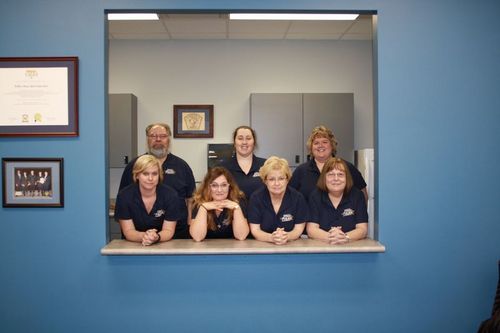 FR:Sarah Oldsen, Nadine Thiltgen, Janelle Davis, Cindy Corson. BR: Tom Pantera, Vanessa Oldsen, Theresa Wainwright.
You will learn how to process a crime scene and do fingerprints.