CAMPUS CRIME STOPPERS
MISSION STATEMENT- To empower students to do the right thing, and to create a safe environment for learning.
REWARD - A monetary reward will be given, if the information received leads to an arrest.
HOW DOES IT WORK? If you a student,parent,teacher or other school employee, you can report information about criminal activity in and around your school by call Campus Crime Stoppers Hotline. Call 24 Hour Campus Crime Stoppers hotline at 563-242-6595. You do not have to give your name!
For other issues, you can go to http://www.central-clinton.k12.ia.us. Proceed to the yellow tab on the left side of the homepage called School Resource Officer Student Contact form and submit your issue.
CRIME PREVENTION TIPS
You are safest in well lit areas where groups of people are present. If you think someone is following you, go to the nearest well lit place with people present.
LOOK and ACT confident while you are walking, be aware of your surroundings, trust your instincts, and don't be concerned about appearing rude if you feel threatened.
SAFETY IN NUMBERS: make it a habit to walk with others.
Recognize that the use of a cell phone or other personal devices may distract you from paying attention to your surroundings, and persons acting suspiciously.
ALWAYS let someone know where you are. Let someone know when you are leaving and arriving at a particular destination.
It is very important to know your location when calling 911 for assistance, especially if you are using a cell phone.
If someone tries to take property from you, remeber that your physical safety is more important than any material object. Let the property GO!
Often times doing something to bring attention to a situation can deter an attack. For example, yell "FIRE!"
WHAT SHOULD I REPORT? WHAT SHOULD I NOT REPORT?
REPORT criminal activity that happens in and around your school. Drugs,drinking,graffiti,vandalism,burglary,weapons,threats of violence,and gang activity are all crimes that affect your safety and ability to learn. Information you provide us can help make your school a safe place.
WHAT NOT TO REPORT? When the information you have it not criminal. For example, report bullying to a school official. If you're unsure whether you should call Campus Crime Stoppers, please contact the DeWitt Police Department at 659-3145, or a school administrator first.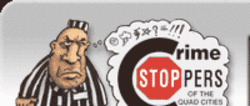 The Community involvement function provides the following:
Enhance Information sharing with existing community organiztions;
Establishing community groups,
Assist in the development of community involvement policies for the DeWitt Police Department,
Publicize agency objectives, community problems and successes,
Convey information transmitted from organizations to the agency,
Improve agency practices on police community interaction and
Develop problem oriented community policing strategies!
WHAT HAPPENS?
What Happens with the Information: When you report to our hotline, the information you give is turned over to a DeWitt police officer for further investigation.
What Happens if the information I give is wrong? Can someone go to jail because of me? NO. The information you provide will be used as part of an investigation if need be.